Group Training Manifesto
Your Free Gift for joining the Smart Group Training Newsletter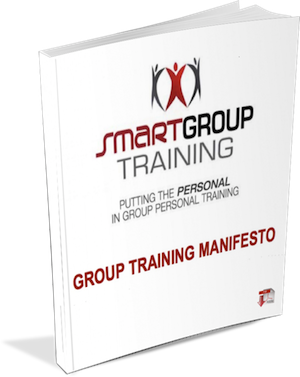 Submit Your Email To Claim This Gift

Take Your Group Training to the Next Level!!
Group training gurus Steve Long and Jared Woolever share it all in this complete guide designed to show you exactly how to run group training sessions that will…
Increase Your Clients Results and Help them SMASH Plateaus
Set You Apart From the Rest of the Pack
Fill Your Schedule with Tons of Referrals and Have Rock Solid Retention
Smart Group Training exists to help make it easier for trainers to increase the quality of their group training and they have done that with the Group Training Manifesto!
The Group Training Manifesto is a basic breakdown of some of the principals and systems that make Smart Group Training remarkable.
With this cheat sheet, you will have an understanding of what Smart Group Training is and a step-by-step plan to incorporate some Smart Group Training principals into your group training program.
Here what is covered for you in the Group Training Manifesto:
The importance of screening your group training clients.
What "red-lighting" is, and how to incorporate it into your group training.
Common red lights and corrective exercises for the FMS.
A super easy-to-use alternative to the FMS with red lights and corrective exercises.
How to include corrective exercise into your group training, with exercise examples.
A done-for-you workout example.
The complete Smart Group Training large group training session format
How to over deliver to your group training clients to make their experience more like personal training.
Take your group training to the next level, set yourself apart, and be the best at group personal training with the Group Training Manifesto by Smart Group Training.
Submit Your Email To Claim This Gift