Attention Personal Trainers Who Are Truly Dedicated to Being the BEST in their area…
"Who Else Wants to Separate Themselves From Their Competition, Blow Their Clients' Minds, and Gain the Respect AND Referrals of Medical Professionals While Building a Six (or even Seven) Figure Personal Training Business That's Fun to Own?"
Discover How To Run Boot Camps and Group Training Sessions With the Same Level of Attention to Detail and Individuality as One-on-One Personal Training…
And Make More Money With Less Work Than Ever Before!
Dear Fellow Fitness Professional,
Do you wish you could make more per hour by training multiple people per session, yet still be able to properly assess (i.e., Functional Movement Screen) and provide individualized corrective exercise?
We most certainly did? In fact, for a long time, it was our biggest concern (and struggle) as we built our fitness businesses…
Hello! We're Steve Long & Jared Woolever, and just like YOU we're extremely dedicated personal trainers who are constantly looking for ways to get better at our craft. As a matter of fact, that's how we met – at an educational conference. We're kind of known in the fitness industry as education junkies, but we're totally cool with that label – actually, we're pretty proud of it!
Both of us ran personal training businesses and, while we loved being able to deliver the highest quality service to our clients, we were both frustrated that as our schedules filled we were losing business – after all, there are only so many hours in the day, right?
Sure, running boot camps was an option, but…well, let's just say we didn't want to be associated with the group x classes we were seeing pop up around town…
You know what we're talking about – unqualified "trainers" packing "all fitness levels" into one class, providing little to no instruction, basically just barking out a bunch of random exercises with no thought to program design or periodization (they probably never even heard that word before – Ha!) in an effort to "kick their clients asses"… as if that's the best way to impress them. In a word, AWFUL!
So, that's how our journey began to create a better, smarter way to train clients and make more money per session – SMART GROUP TRAINING WAS BORN!
"AT LAST! A Done-for-You Assessment & Programming System That Shows You How to Perform Movement Screens and Corrective Exercise In Group Personal Training and Boot Camp Programs!"
Every good personal trainer worth at least the piece of paper that certifies him/her knows that a PERSONAL training program starts with an assessment, which should include a movement screen. Our preferred method, by the way, is the Functional Movement Screen (FMS).
Once assessed, a proper program can be designed, implemented, monitored and altered as needed. That's basically what personal training is, right? Well, that and all the fun "psychology" stuff that comes with the job. ;-b
"Yeah, but how am I supposed to do that with my boot camp members?!" you might ask…
We had the same question, but after years and years of research and a bunch of trial and error we've discovered a simple-to-use method that's easily duplicatable (all of our trainers can do it) and we're excited to share it with YOU!
Introducing Smart Group Training –
Screening & Corrective Exercise
In this one-of-kind group personal training and boot camp coaching resource you will…
Discover how to perform the Functional Movement Screen on a large group – it's so simple!
Learn how easy AND fun it is to incorporate corrective exercises into your boot camp – your clients will LOVE this!
Understand how to "red light" exercises and get clients motivated to improve their performance
Get a complete done-for-you program design that you can plug into your group training program RIGHT NOW!
This program is so easy to incorporate and it will truly set you and your business apart. Just take a look at what these leading fitness industry experts have to say about Smart Group Training…
"Steve and Jared are the dynamic duo of corrective exercise, especially in the group personal training environment. These are the guys that got me hooked on FMS and helped me incorporate it into my boot camp program. In 15 years of personal training and management I've come across and worked with several hundred personal trainers. I consider Steve and Jared to be two of the very best. They're my go-to-guys for movement screening and corrective exercise programming. They should be yours, too!"
Justin Yule, BS, CPT, MTE, FMS
President & Chief Fitness Officer
Chanhassen Fitness Revolution
"They say that hard work beats talent any day of the week but I say only when talent works hard have you found the unstoppable formula for success. Steve and Jared are two great examples of talented fitness professional who are willing to put in the leg work to create real change for their clients and campers. Often times that means doing things that many other trainers are either too lazy or unwilling to do such as assessments for group training. With this product you can see exactly what type of extra work it takes to separate yourself from all the other spandex-wearing, chicken and broccoli-eating trainers that are caught on the same hamster wheel they tell their clients to get off of."
BJ Gaddour, CSCS
CEO of StreamFIT.com
Men's and Women's Health Contributor
"I've personally worked with and mentored Steve Long and Jared Woolever for a few years now, and these guys are serious about improving the fitness industry. Their product, Smart Group Training, is going to change the game as far as bootcamps go, and I'm so sold on the process that we're going to be using it in our camps as well!
Quite simply, Steve and Jared are top notch guys with a fantastic product. If you run bootcamps, this product figures to be a game changer!"
Mike Robertson
World Renowned Fitness Expert, Owner at IFAST
"Steve and Jared are two of the top professionals in the fitness industry. They've both built extraordinary business by doing things the right way and, most importantly, delivering a great service to their clients. No one has put any more thought into how to deliver sound,effective group programming than Steve and Jared, so if you have the opportunity to learn from them, take advantage of it."
Pat Rigsby
CEO – Fitness Revolution, Athletic Revolution, International Youth Conditioning Association
"I've known Jared and Steve for about 3 years. Without a doubt their dedication to our industry is that typically only seen in industry leaders. They are both extremely knowledgeable, alone, not only about group training and corrective exercise, but are well rounded in many aspects of fitness and performance training. Put them together and they are like a "Fitness Dynamic Duo". Although I've been a fitness professional for almost 15 years, Steve and Jared teach me something every time I talk with them and you will, too. You can trust that anything that Steve and Jared do is a top notch, a great value and will help you improve your fitness business."
BJ Bliffert
Full Throttle Athletics
Athletic Revolution Frisco
Co-Author of the International Best Seller "Total Body Breakthroughs"
I've been in the fitness business for over three decades and I can honestly say that Steve Long and Jared Woolever are two of the brightest minds in the fitness industry. They combine the world of academia and in-the-trenches experience to create workout programming that is second to none. I would highly recommend any product they put their names on."
Greg Justice, MA
Co-Author (International Best-Seller) of "Total Body Breakthroughs"
Author of "Treadside Manner – Confessions of a Serial Personal Trainer"
Join All of Us In Our Quest to Make the Personal Training Industry More Reputable, Respected AND Rewarding. Start Smart Group Training Now!
Smart Group Training: Screening & Corrective Exercise is a complete system that will show you exactly how to incorporate the most comprehensive, yet easy-to-implement, movement screening and corrective exercise programming into your group training business.
You're going to get all of this when you order today:
Detailed Instructional Manual Includes…
13 No-Fluff, Info-Packed Chapters Detailing Every Step Of The Smart Group Training System
10-Step Implementation Plan to Get You and Your Staff Trained and Ready to Go in 7 Days or Less
The Functional Movement Screen Hierarchy – Know EXACTLY What to Focus on With Each Client
4 Simple-to-Follow Variations of the Group Screening Process – Choose the One That Works For Your Staff and Your Budget
31 Corrective Exercises with Pictures and Instructions, as well as Purpose, Coaching Cues, and Regressions & Progressions
2-disc DVD Set…
Gives You a Step-by-Step Breakdown of Everything You Need to Start Smart Group Training
Walks You Through How to Effectively Perform the Functional Movement Screen on Large Groups
Shows You How to "Red Light" Exercises for Individuals And Give Them Alternatives So They Can Still Train With the Group and Feel Successful as They Work Toward Their Individual Goals
Teaches You the Most Efficient & Effective Corrective Exercises to Use in Your Group Training
Jam-Packed CD ROM Includes…
Done-for-You Warm-ups & Workouts
Corrective Exercise Poster to Hang in Your Facility
Corrective Exercise PDFs to Give to Your Clients
Done-for-Your Emails & Blog Posts to Educate & Excite Your Prospects & Clients
FMS Hierarchy Cheat Sheet
FMS Scoring Sheets
Red Light List & Poster
Smart Group Training System Implementation Checklist
Tissue Quality Training Poster to Display in Your Facility
Done-for-You Power Point Presentation on Corrective Exercise – Get the Word Out With Public Speaking Engagements to Attract Swarms of New Clients!

"FINALLY! You Can Run The Personal Training Business of Your Dreams With High Quality AND High Profits."
You no longer have to train 50-60 hours per week of one-on-one personal training clients to make a living. Now you can give your clients the same quality of training in a more fun environment that costs them less and makes you more! EVERYBODY WINS!!
We're so confident that you're going to love Smart Group Training: Screening & Corrective Exercise that we're more than willing to put our money where our mouths are…Test drive it for the next 30 days, and if you're not fully satisfied you can return it for a FULL REFUND – NO QUESTIONS ASKED.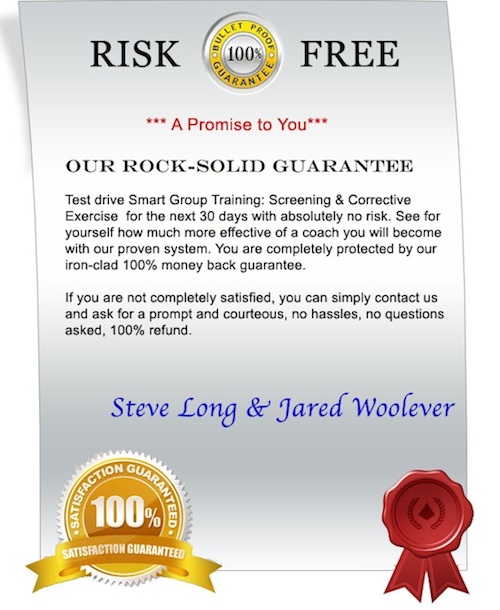 Look, we're small business owners just like you. We first started training like this to separate ourselves from the competition, and it worked beautifully. Then we shared it with some of our fitness business mastermind members, and it worked for them. Now, we've put it all together in one simple-to-use system and we want to share it with YOU, because we know it will work for you, too!
Grab your copy of Smart Group Training: Screening & Corrective Exercise today and take your first step in being the best personal training solution in your area…

Train Smart!
Steve Long & Jared Woolever

P.S. – Smart Group Training will blow your clients away, flood your program with medical referrals, and produce such amazing results that you'll have more glowing testimonials than you know what to do with…
P.P.S. – Now is your chance to stand out from the rest of the crowd and take your personal training business to a whole new level…Just be sure YOU get Smart Group Training before your competition does!
Get Started TODAY and you'll be Smart Group Training in as Little as 7 Days!